This weekend I got an urge to live like a mobster.
Squeamish about thrill killing, I decided my best course of action was to just open a speakeasy in my garage. I pictured a circle of my friends playing penny poker and sipping whiskey from mismatched glasses. Maybe a cigar would be brandished, and I would wear pinstripes.
But everyone wanted to go to Punky Reggae instead.
La Cita was a mess: festering, sweaty, dude-heavy. We soon split to Charlie O's to find it empty, save for a ghost-y figure dancing alone on the parquet floor. One round later, we wandered outside to discover that MJ Higgins, an art gallery in the bottom floor of the ramshackle Alexandria Hotel, was far from closing up shop. Past a doorman with a fierce ZZ Top goatee, the gallery was a maze of work by downtown artists, and the hotel lobby was throbbing with men, disco lights, and remixed pop. A speakeasy, in full swing. But not quite the vibe I was looking for.
We heard a whisper from the bouncer about yet another speakeasy, six blocks away. "Look for some scary people loitering in an alley," he advised. Duly noted.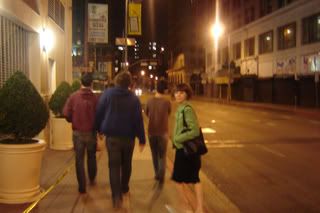 We tiptoed past sleeping bags, saw rats the size of chihuahuas and argued about the order of the downtown streets until we found the alley, and the scary loitering people. It was dank, and smelled like the elephant exhibit at the St. Louis Zoo. Turning on heels, we started back to the car. "Dude, I know an awesome speakeasy." Georgia said. "It's called "Alie's Garage."
Until next time, comrades, stay safe, and watch out for rodents of unusual size.
Miss Alie Ward
PS- this post also went up on mah work blog, but absent from that entry are pictures of Sharpie neck tattoos, arguably the best part of the weekend.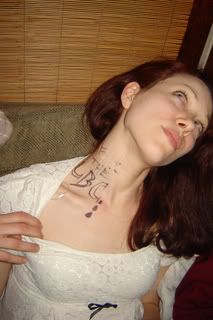 F the LBC
...and
Georgia
and Katherine get Sharpied...and probably skin poisoned.